Partner with a Sonos Gold Dealer for Hi-Fi Wireless Music
Install a Whole House Audio System Using Sonos Speakers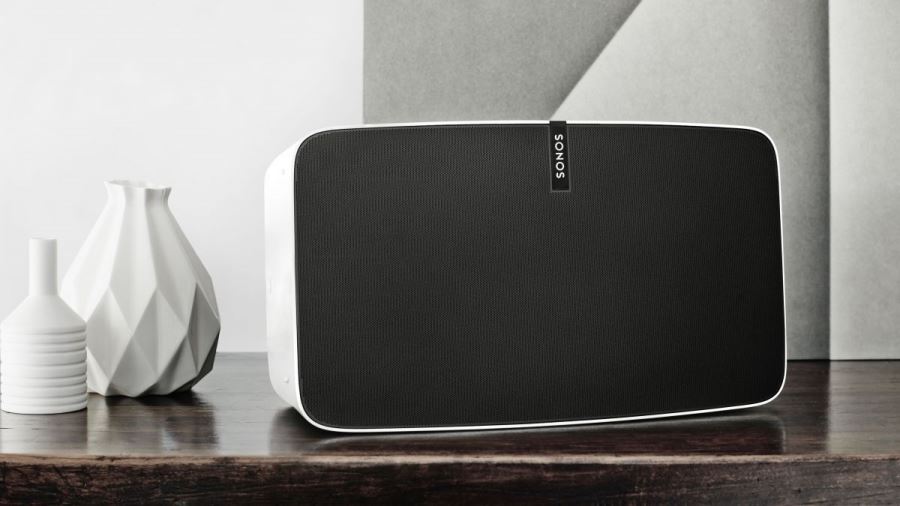 In 2002, the Sonos team set out to re-invent whole home audio for the digital age and make filling every house with music simple and easy. Today, Sonos has emerged as the top wireless speaker brand in the country. Tailor Made AV is proud to be a Sonos Gold Dealer, brining you their best hi-fi audio products and installing them in your Newton, Massachusetts home. As an emerging and inventive company, Sonos continues to release new products, and we're excited to highlight some of the products in their new lineup in this blog.

SEE ALSO: Sonos Systems for Your Massachusetts Home

The PLAY:5

The PLAY:5 is Sonos' newest speaker, and it delivers quite the punch with six custom-designed drivers. While the PLAY:1 boasts of deep bass, hi-fi clarity and plenty of power, the PLAY:5 knocks it out of the park when it comes to deeper bass, more power, and fuller sound. Not only will it fill a bigger area, but it's also a sound upgrade since the three tweeters inside create a crisp and accurate high-frequency response. Place two PLAY:5 speakers in a dedicated listening room to re-create the experience of being at a concert, or put it in a home theater by pairing it with a PLAYBAR and SUB to create a 5.1 surround sound experience. When you purchase a PLAY:5 from us, you get access to over 100,000 radio stations, shows and podcast with no additional charge. It also connects seamlessly to the most popular music streaming services, like Apple Music, Spotify, Pandora, and Deezer.

Trueplay

Trueplay is a wireless tuner that adjusts your Sonos speaker based on the particular specifications of your room. It uses your smartphone or tablet to analyze the room, then adjusts how each tweeter and woofer creates sound. It accomplishes this by measuring how the sound reflects off the walls, furniture, and other surfaces. Then it makes acoustic adjustments to make sure you always hear the purest sound possible. Whichever song you decided to play, Trueplay will customize it to the room you're in. All you have to do is open the Sonos App, pick a room, and tap "Trueplay Tuning." This technology is available for your Sonos PLAY: 1, PLAY:3 and PLAY:5.


Sonos Installation Services

Whether you are a tech guru or not, it's always important to do your homework before you make a purchase. We don't recommend you buy a speaker based on how cool it looks, or simply what an advertisement promises. You need an expert – whether it's a friend or integrator like us – to guide you. We've been providing Sonos speakers in Massachusetts and New Hampshire homes for years, and we have a "Gold Dealer" stamp to prove it, meaning we know exactly which Sonos speaker and system is best for each and every space in your house. We can connect them to your current audio system using the Connect: Amp, or integrate them into your custom home theater. We'll help you set up the app, organize your music, and make sure it works seamlessly with the rest of your smart home. The benefit of working with a local professional is that you'll save time, money, and energy.


Need a new Sonos speaker? We have every product and system you need for every application. Fill out this online form to get started.

No video selected.