How to Add Voice Control to Your Control4 Smart Home
Update Your Portsmouth Home with Amazon's Alexa Voice Control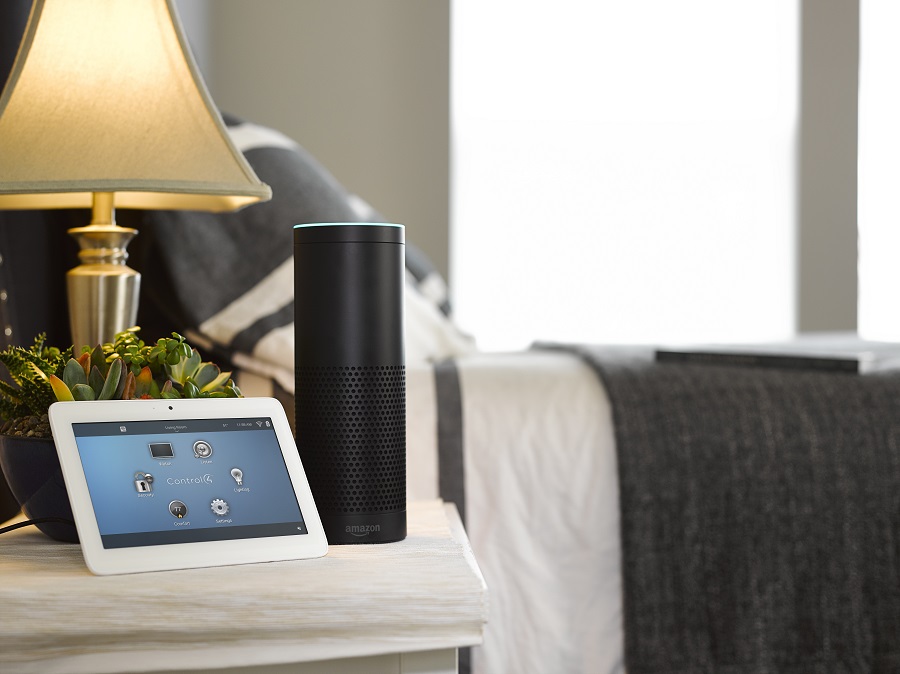 Have you ever walked into your home with your hands full and struggled to turn on the lights, or disarm the security system? What if you could simply tell your house to brighten your home and turn off the alarm? Until now, hands-free controls didn't exist for the majority of smart homeowners. Although some integrators were able to figure out a way to install voice control capabilities on their own, this feature wasn't a solution widely available to families everywhere. Now the big news is that Amazon has paved the way for easy, hands-free automation with their new gadgets the Echo, Dot, and Tap - also known as Alexa. And, it's compatible with Control4 systems so we can easily add it to your smart home. To learn more about this big trend, continue reading.
SEE ALSO: 3 Home Theater Trends to Follow this Fall

Alexa is your "personal intelligent assistant" - or the control software that runs on the Echo, a smart speaker that works with your smart home system to perform tasks using voice commands. Think of Alexa as an improved Siri, exclusively used for your smart home. Only instead of asking her who the president of France is, you would ask her to turn the lights on in the kitchen.
Amazon's smart home director Charlie Kindel, said at CEDIA this year, "The original inspiration for the Echo was the Star Trek computer. We wanted to create a computer in the cloud that's controlled entirely by your voice — you could ask it things, ask it to do things for you, find things for you, and it's easy to converse with in a natural way. We're a ways off from that, but that was, and is, our vision."
Originally the Echo was a DIY-type standalone product that you could use to get the weather report, play music, or even read you an audio book. Certain smart home products are also compatible with the Echo. However, the big names in automation like Control4 and Crestron have created drivers to work with Alexa so you can use this amazing technology and not have to invest a lot to overhaul your existing smart home system.
What can it do?
On its own, Alexa can do a lot of really cool things, but add it to your Control4 smart home and your options expand even further. Here's a quick overview of commands you can say to Alexa and she'll do it!
Say…
Alexa, dim the kitchen lights to 60%.
Alexa, give me the traffic report.
Alexa, shuffle my favorites playlist.
Alexa, play Katy Perry.
Alexa, order pizza from Domino's.
Alexa, what's on my calendar today?
Alexa, turn on Party scene.
Alexa, lock the front door.
How do I get Alexa?

All you have to do is call us or fill out this online form, and we'll come to your home and install Alexa. And don't forget that we have many options for controls, including smart remotes, in-wall keypads, mobile apps, and even occupancy/vacancy sensors. Let us know how we can customize your home, and we'll craft a solution that is Tailor-Made.

No video selected.