Control Meets Elegance
The technology behind your smart home automation system is only as good as the device that allows you to control it.   Once we have integrated your new smart home in Massachusetts or New Hampshire with intelligent systems, the fun part is taking control of any of those systems with the magical touch of a simple elegant device.   The true measure of wizardry (afforded you from a broad range of devices) allows you to control all the systems in your home seamlessly, while the technology behind them remains completely hidden from the naked eye.   We work with nothing but the best-in-class manufactures to offer you a choice menu of capable products and devices to meet your project goals.
With more and more smart electronics playing a central role in our daily lives, they deserve an even smarter role at home or facility. Control4 has the mastermind solution, making it possible for virtually any appliance or device in your home business to intelligently communicate with another, from locks to lights, doors to drapes, and you the ability to control them, no matter where you are.
For Denon, audio-video reproduction is not just a business. The creation of products that can deliver total quality enjoyment to others is a fundamental driving passion and the reason we exist. What's more, our constant quest to create the perfect entertainment component is the key to transforming creative ideas into leading innovation, and to anticipating consumer needs. In recent evolution, this has included the development of mobile technologies, so that customers can enjoy the best possible quality reproduction in any format. Bringing purity of sound and joy to customers' lives is what Denon is all about.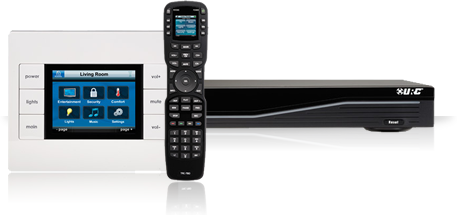 Have you ever wished for a magic little box that controls everything in your home? Something that enables you to hear your favorite music anywhere in the house, watch your favorite programs, dim lights to match the mood, and shows you who is on your front doorstep, all from the comfort of your couch? A magic, seamless solution that connects you with your home and loved ones in a whole new way. Wish no longer, your dream has come true. Total Control from URC brings whole house control to life, making it personal for real people and real homes, every day.
In 2002, we set out with a goal – to reinvent home audio for the digital age. Our vision was simple - fill every home with music and make listening a valued experience again. We're making it easy for everybody to listen to the music they love in every room of their home. To hear the songs they love, to discover new music they never knew existed, and to appreciate it all with the highest sound quality.
QMotion Advanced Shading Systems offers top-notch technology and leading fashion sense in window treatments for stylish homes and office spaces. QMotion Advanced Shading Systems sets new standards of excellence for automated shades, powered by easy installation low voltage power or long lasting batteries that are easily accessible inside the shade tube. The results are elegant electric shades with industry leading battery life and unparalleled quietness.
A good system in a good listening room can produce quite a convincingly real sonic illusion. From the very beginning, the pioneering inventiveness of KEF loudspeakers was undeniable and now for several decades, audiophiles around the world have revered KEF for its innovative, high-performance loudspeakers. Innovation is what sets KEF apart. It's why we were founded, and why we've always attracted some of the world's most gifted acoustic engineers.
Monitor Audio Ltd is a British owned and managed global specialist in hi-fi loudspeaker design, incorporating stereo and surround sound systems and a range of sonically matched architectural speakers for ultra discreet high quality sound around the home and outside. Our success is not simply a matter of excellent sound quality, although expert listeners around the world will testify to that. It's more about how we deliver the sonic superlatives. By consistently refining and applying our technologies, Monitor Audio has become the world's foremost expert in developing metal dome drivers.
Picture quality so lifelike it's like looking through a window. Skin tones, lush landscape foliage and countless details come to life as the X-Reality™ picture engine optimizes the color, contrast and textures of each object individually. The X-Reality™ PRO engine adds unprecedented detail and delivers an infinitely broad spectrum of color by enhancing each scene, pixel by pixel, for our most true-to-life picture yet.
For over 70 years, Samsung has been dedicated to making a better world through diverse businesses and advanced technologies. Samgung Electronics, leads the global market in high-tech electronics manufacturing and digital media.