How to Customize Your Home Theater
Tailor-Made Audio + Video Offers Design Solutions for Your Massachusetts Private Cinema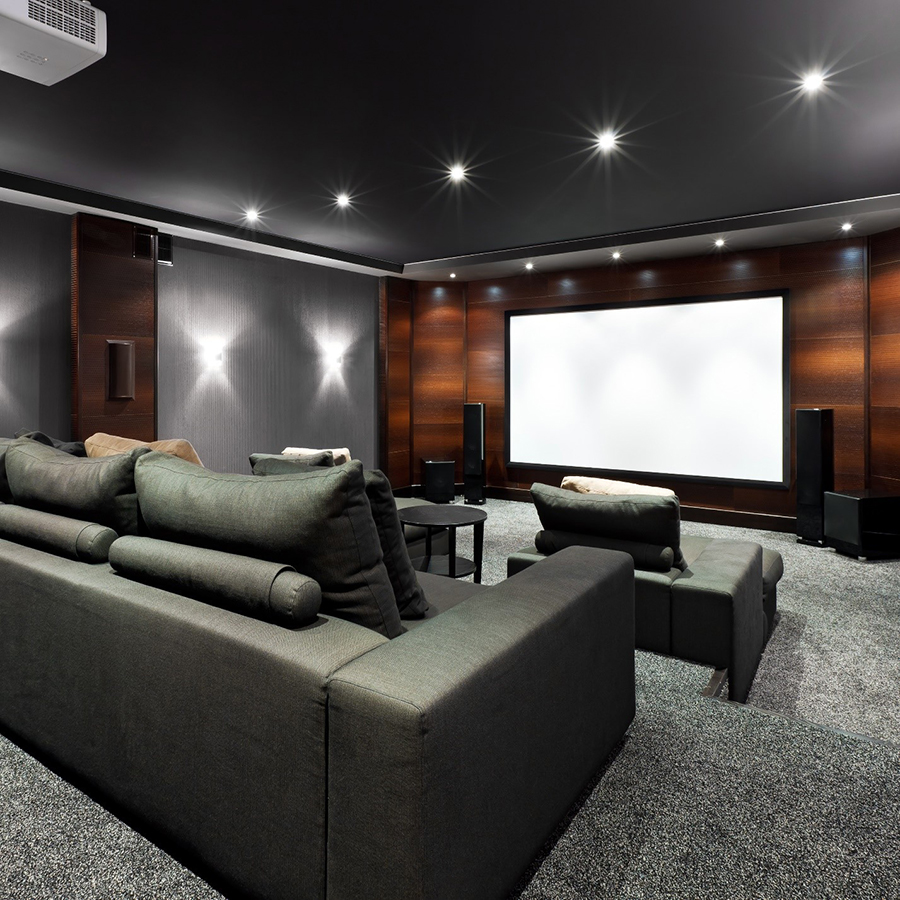 If you're getting ready to build your own personal movie palace in your Massachusetts smart home, you've probably started to plan out how your custom home theater design will integrate with the rest of your automation features. That's an excellent first step, but sometimes things tend to get overlooked. It's easy to forget about user experience, especially if you get caught up in all of the complexities of home entertainment technology. Here are some tips to keep in mind when you are building your home theater that will enhance the way you watch movies in your home.

Find the Right Screen

Picking out the perfect screen isn't as simple as picking the biggest one and hoping for the best. As you already know, the size of the screen will be determined by where you choose to put the seating. But there are other considerations, like finding a screen that doesn't reflect light from any source but the projector. Extra light can quickly wash out a movie image, so picking a screen with a minimal reflection angle tends to work very well.

And some homeowners may not even want a screen and projector system. While this used to mean that you would have to sacrifice image quality, modern 4K and widescreen televisions are becoming more popular as home fixtures. So far there isn't much content available for 4K Ultra HD TVs, but in the coming year that will likely change.

Keep the Light out With Shading

When you construct a private theater, it's important to tackle even the small details, like making sure light doesn't stream in from outside sources. Flashes of light coming in from windows and doors can really affect your entertainment experience and create an uncomfortable glare. In these situation, the Tailor-Made team works around your home's unique layout to address these issues. Installing blackout shades is a great solution. And when you integrate them into your control system, with one button you can call the projector down from the ceiling, turn off the lights and lower the shades for a stunning home theater experience.

Avoid Reflective Surfaces

Reflective surfaces can be the downfall of your perfect custom home theater design. And it's more than just removing that glass table you thought would really tie the room together. Bright wall colors are a big offender when it comes to light reflection, which is why most commercial theaters are painted black or brown. Also, shiny seat surfaces like leather can be disruptive. We will help you pick out seating that is both comfortable and functional.

Make it Your Own

As you get ready to enjoy your home theater – your 4K projector is aimed at your beautiful new screen, the lights are low and the sound is up – there's just one more thing you need to do: make it yours. It's easy to forget that this is a room in your home, one that you'll want to be warm and welcoming. So throw some team colors up on the wall, decorate the room with movie memorabilia or add that mini bar in the back. Personalizing your home theater will make it the centerpiece of your house.

Are you ready to get started on your custom home theater design in your Massachusetts home? Contact us now to begin planning today!

No video selected.